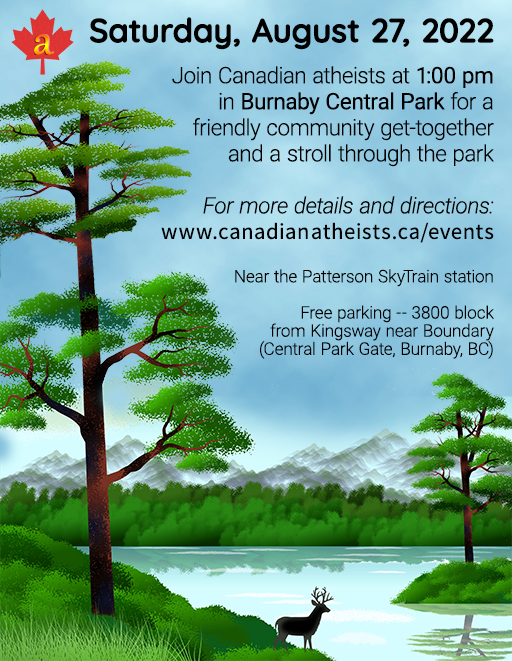 Events :: A friendly community get-together with Canadian atheists (2022-Aug-27)
This is a past event. For future events, please see our Current Events page.
Thank you to everyone who joined us, and also to everyone who was interested. 12 people attended (and one dog), and we had some great conversations covering a wide variety of topics as we all enjoyed a 2-hour stroll through Burnaby Central Park.

Two people came from the USA, and the rest of us came from various local cities. We're looking forward to more of these events in the future.
Everyone is welcome to join us at this friendly community get-together with Canadian atheists.
Location: Central Park Picnic Areas, North-West section of park (next to Swangard Stadium), Burnaby, B.C., Canada

Parking: Central Park Gate, 3800 block Kingsway (near Boundary), Burnaby, B.C., Canada

Date: Saturday, August 27, 2022
Time: 13:00 (1:00pm) friendly community get-together (everyone is welcome, and all are encouraged to arrive early)

Admission: Free (public park; patrons are responsible for bringing their own food and drinks)
We look forward to meeting people at this event, and also organizing more of these friendly community get-togethers in the future.
Sincerely, and with warmest regards,

Randolf Richardson
President of the Canadian atheists
https://www.canadianatheists.ca/
If you'd like to support the Canadian atheists, please consider donating or becoming a member (thank you).