Bulletins :: International Association of Atheists partnership
July 20, 2020
Canadian atheists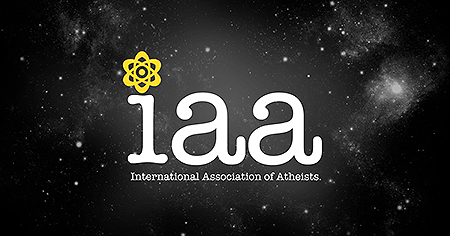 Today we received official confirmation that Canadian atheists is now a partner member of the International Association of Atheists ("iaa"), which we value tremendously because of the excellent work they do in advocating for atheists throughout the world. Consistent with our role in encouraging the protection of freedom and promoting atheism, the International Association of Atheists is focused on the following initiatives:
Secular Education
Secular Underground Network
Legal Aid for Blasphemy
Atheist Seniors
Atheist Business
The International Association of Atheists "envisions a future in which atheists have the opportunities and resources they need to participate openly and confidently in every aspect of society," which you can read more about on their "about us" web page at https://www.internationalatheists.org/about for a more compehensive overview of their purposes and intentions.
We eagerly anticipate a future where everyone, including atheists, can engage freely, equally, and safely in all parts of the world, and we greatly appreciate the International Association of Atheist's continuing excellence in advancing the world toward achieving this outcome.
Links
If you'd like to support the Canadian atheists, please consider donating or becoming a member (thank you).