Welcome to the Canadian atheists
Canadian atheists advocates for the freedoms, rights, and equality of atheists in Canada and internationally, and we promote atheism as it is a normal aspect of life in Canada (culturally and constitutionally) and throughout the world. [...follow this link to continue reading...]
What is atheism?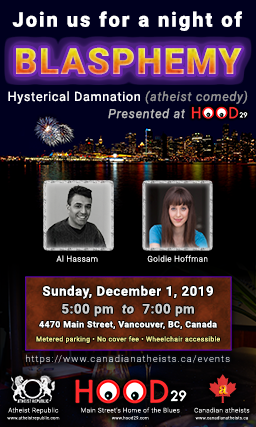 The word "atheism" represents an all-encompassing and tremendously diverse classification-demographic of individuals who share one specific trait -- the absence of belief in any deities (gods and goddesses). All other traits ... [...follow this link to continue reading...]
Events, Bulletins, and Announcements
2021-Feb-22: Statutory tax exemptions for religious institutions (report)
2020-Jul-20: International Association of Atheists partnership
2020-Jun-18: Alberta's Critical Infrastructure Defence Act (Bill 1)
2020-Jan-23: Worldie All-In-One Social Media Network affiliation
2019-Dec-01: A night of Blasphemy - Hysterical Damnation (atheist comedy; Vancouver, BC, Canada)
Blood Donation Campaign with Canadian Blood Services [...follow this link to read more...]
Atheist Alliance International affiliation is officially confirmed for Canadian atheists. [...follow this link to read more...]
Important information
Please take a moment to review some of the important campaigns and petitions we're promoting by following this link.
Everyone is welcome to become a member of the Canadian atheists by following this link.